VC Prime Minister Phan Van Khai
met angry protest in Seattle.
June 19, 2005

Protests greet Vietnamese PM on landmark visit to United States
Sun Jun 19, 6:21 PM ET


SEATTLE, United States (AFP) - Vietnamese Prime Minister Phan Van Khai was hounded by protests against his government's human rights record as he began a historic visit to the United States, the first by a Vietnamese government leader since the Vietnam War.

Leading a 200-strong delegation including five ministers, Khai arrived in Seattle on his maiden stop of a week long trip to the country that includes talks with President George W. Bush in Washington on Tuesday.
Several hundred Vietnamese-Americans demonstrated in front of the hotel where Khai was billeted in this west coast city, shouting "Go home, Go home" and "You're not welcome here," witnesses said.
"We are demonstrating peacefully but with a strong message: The time has come for democracy in Vietnam and (to) stop human rights abuses there," said Sai Nguyen, head of the Vietnamese-American Coalition in Northwest America, who led the protests.
"Mr Bush must live up to his promise to spread democracy and tell the Vietnamese communist leadership that there must be respect for human rights, the rule of law, transparency and freedom of the press in Vietnam," said Chan Tran, an economics professor at the University of Phoenix in Sacramento, California, who joined the demonstration.
Khai, at a news conference, dismissed any notion of religious persecution in his country and defended his government's policies. He also challenged Vietnamese-Americans complaining about conditions in Vietnam to go there and look at "the progress" achieved.
"You should come back to Vietnam and see that lot of progress has been made to promote religious and human rights issues," he said. "During the thousands of years of history of Vietnam, there has been no religious conflict in the nation," he said.
Action was taken against people "who showed no respect for law and not for their religious activities," he said, adding that since September 2004, amnesty was granted to "thousands of convicted persons."
Khai said his government wanted to promote unity among Vietnamese "without any discrimination -- whether they are on this side or the other side."
The 71-year-old Vietnamese leader visited American aviation giant Boeing's plant south of Seattle on Sunday and is scheduled to hold talks with Microsoft chief Bill Gates on Monday. Vietnam is wooing Microsoft to invest in its emerging economy.
Vietnam Airlines, the national carrier, has forged a deal with Boeing to buy four wide-bodied 787-8 Dreamliners worth up to 500 million dollars.
Khai's landmark US visit caps a series of reconciliation moves by both countries since the bloody Vietnam War ended in 1975 after claiming the lives of more than 58,000 US soldiers and one million Vietnamese civilians and soldiers.
The two countries celebrate a decade of the renewal of diplomatic relations next month.
Many Vietnamese-Americans, who fled their native land after the communists from North Vietnam took over the US-backed southern administration at the end of the war, still harbour deep enmity towards the Hanoi regime.
Bush is expected to set the pace for greater political, economic and security ties with Vietnam but will find it difficult to ignore pressure from Congress which wants a clear message from the Vietnamese leader on democratic reforms and human rights.
A group of 45 US lawmakers has sent a letter to Bush urging him to convey to Khai "our deep concern over the conditions of human rights and religious freedom" in Vietnam.
Some one hundred religious leaders remain in prison or in "administrative detention," the legislators said in their letter.
Khai's government has repeatedly denied passports to victims of religious or political persecution being considered or accepted for refugee admission by the United States.
The United States last year designated Vietnam as a "country of particular concern" on account of its widespread violations of religious freedom. This year, international pressure has resulted in a number of prisoner releases.
The US House of Representatives has fittingly scheduled a hearing on human rights and religious freedom in Vietnam on Monday, when Khai arrives in Washington from Seattle.
Demonstrations have been planned in the US capital as well as in New York, where Khai will ring the bell during his visit to the world's busiest stock exchange.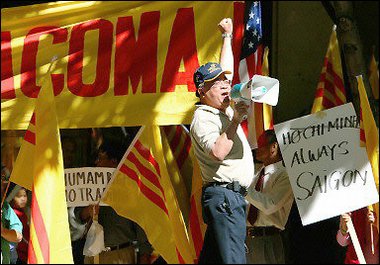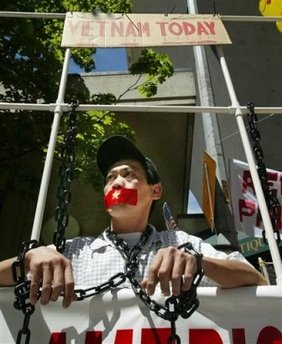 * * * * * * * * * * *
AP - Sun Jun 19, 7:19 PM ET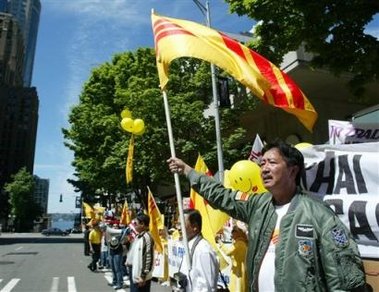 AP - Sun Jun 19, 7:21 PM ET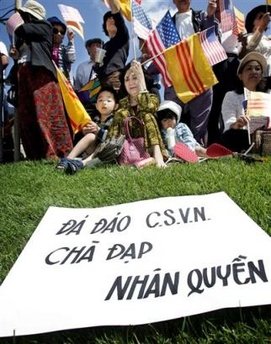 AP - Sat Jun 18, 4:38 PM ET
Waving U.S. and former South Vietnamese flags, Hong Phan and her grandchildren Henry Nguyen, 3, left, and Helen Nguyen, 2, right, join a protest against the upcoming U.S. visit of Phan Van Khai the prime minister of Vietnam, in Little Saigon in Westminster, Calif., Saturday, June 18, 2005. The sign in foreground was translated as 'Down with the Communists because they violate human rights.' Making the first U.S. visit by a Vietnamese prime minister since the war's end 30 years ago, Phan Van Khai is planning to talk business with Bill Gates, visit Harvard, and boost his country's bid to join the World Trade Organization. (AP Photo/Reed Saxon)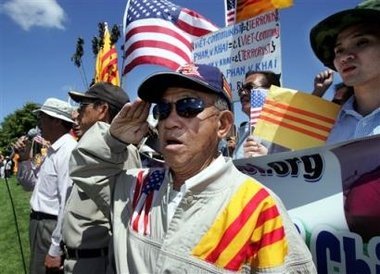 AP - Sat Jun 18, 4:40 PM ET
Adorned with the colors of the former South Vietnam and the United States, Thinh Nguyen, a former captain in the South Vietnamese Army, salutes during the playing of the U.S. and former South Vietnamese national anthems during a demonstration against the upcoming visit of Phan Van Khai the prime minister of Vietnam to the U.S., in Little Saigon in Westminster, Calif., Saturday, June 18, 2005. Making the first U.S. visit by a Vietnamese prime minister since the war's end 30 years ago, Phan Van Khai is planning to talk business with Bill Gates, visit Harvard, and boost his country's bid to join the World Trade Organization. (AP Photo/Reed Saxon)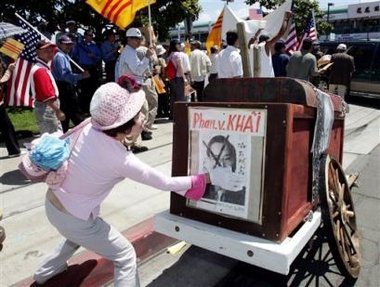 AP - Sat Jun 18, 4:42 PM ET
A woman strikes a portrait of Vietnam Prime Minister Phan Van Khai during a demonstration by Vietnamese-Americans and others against the upcoming visit of the prime minister of Vietnam to the U.S., in Little Saigon in Westminster, Calif., Saturday, June 18, 2005. Making the first U.S. visit by a Vietnamese prime minister since the war's end 30 years ago, Phan Van Khai is planning to talk business with Bill Gates, visit Harvard, and boost his country's bid to join the World Trade Organization. (AP Photo/Reed Saxon)
visitors
since 8/16/02