Spies and Commandos:

How America Lost the Secret War in North Vietnam
(Modern War Studies)

by Kenneth J. Conboy, Dale Andrade




Book Description
During the Vietnam war, the U.S. sought to undermine Hanoi's subversion of the Saigon regime by sending Vietnamese operatives behind enemy lines. A secret to most Americans, this covert operation was far from secret in Hanoi: all of the commandos were killed or captured, and many were turned by the Communists to report false information.
Spies and Commandos traces the rise and demise of this secret operation--started by the CIA in 1960 and expanded by the Pentagon beginning in1964--in the first book to examine the program from both sides of the war. Kenneth Conboy and Dale Andrad interviewed CIA and military personnel and traveled in Vietnam to locate former commandos who had been captured by Hanoi, enabling them to tell the complete story of these covert activities from high-level decision making to the actual experiences of the agents.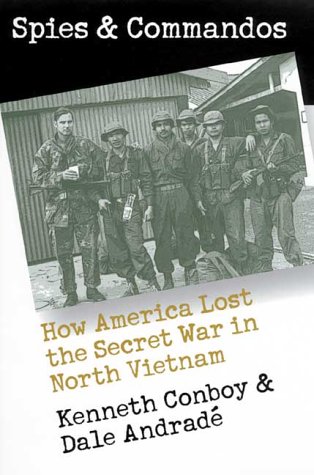 The book vividly describes scores of dangerous missions-including raids against North Vietnamese coastal installations and the air--dropping of dozens of agents into enemy territory--as well as psychological warfare designed to make Hanoi believe the "resistance movement" was larger than it actually was. It offers a more complete operational account of the program than has ever been made available--particularly its early years--and ties known events in the war to covert operations, such as details of the "34-A Operations" that led to the Tonkin Gulf incidents in 1964.
Although it flourished for ten years under cover of the wider war. Conboy and Andrad's account of that episode is a sobering tale that lends a new perspective on the war as it reclaims the lost lives of these unsung spies and commandos.

From the Back Cover:
"A major work that goes beyond what is in any of the other books that touch on these aspects of the Vietnam war-including Sedgwick Tourison's Secret Army, Secret War."--John Prados, author of The Hidden History of the Vietnam War
"Spies and Commandos is full of enlightening and fascinating details. Conboy and Andrad deserve praise for their diligent research, cogent analysis, and significant contribution to understanding America's secret war in Vietnam."--H. R. McMaster, author of Dereliction of... read more

About the Authors:
Kenneth Conboy is the author of several books on the conflict in Southeast Asia, including Shadow War: The CIA's Secret War in Laos. He resides in Jakarta, Indonesia.
Dale Andrade is a historian at the U.S. Army Center of Military History and author of Ashes to Ashes: The Phoenix Program and the Vietnam War and Trial by Fire: The 1972 Easter Offensive, America's Last Vietnam Battle.

Book Reviews:
Excellent piece of work, July 14, 2000
Reviewer: Larry R Baldwin JR (see more about me) from Severna Park, MD United States
Spies and Commandos is a great book for anyone interested in SOG's exploits in SEA. This book is well researched and goes into great detail about the missions executed throughout N.Vietnam, Laos, and Cambodia. Conboy is a great author and any of his works are well recommended for those who seek an unbiased account of covert operations in SEA. A book of simular content was written by Dr. Schutlz but simply does not compare to this. My personal favorite subject discussed in this book is the development, exploitation, and operations of the "EARTH ANGEL" teams(1969-1971) which were turncoat NVA soldiers who were advised/trained by experienced CIA and US Special Forces personel to gather intell in Cambodia. Truly an educational and exciting piece of work. Another interesting subject is how the ARVN Special Operations units fought in the 1972 and final 1975 NVA offensives. BUY IT. You will not be dissapointed.

The release of new information leads to a masterufl book, March 26, 2000
Reviewer: Dominic Caraccilo (see more about me) from 75th Ranger Regiment, Fort Benning Georgia
Much like the myriad of books on the market today, Conboy and Andrade'have taken adventure of newly release special operations information in compiling this masterful book.
SPIES & COMMANDOS is an appropriate addtion to books like THE SECRET WAR AGAINST HANOI and McMaster's Deriliction of Duty -- it provides a complete understanding of the covert war in Vietnam to include an indepth look at some of the special action programs never before explored in print.


Việt Nam Cộng Hòa Muôn Năm
Xin vui lòng lưu bút tưởng niệm đến các vị Anh Hùng của QLVNCH
và các đồng bào nạn nhân đã bị cộng sản sát hại tại Huế.
Please visit and sign our guestbook to honor the ARVN Heoes
and to remember the thousands of civilians murdered in Hue City in 1968.
since Memorial Day 1999